Full Name
: Paris Whitney Hilton
Born
: February 17, 1981
Nationality
: USA
Birthplace
: New York City
Education
: Marywood-Palm Valley School; Dwight School in New York; Buckley School in
Sherman
Oaks, California; Professional Children's School in New York
Religion
: Roman Catholic
Occupation
: Socialite, model, actress, author, recording artist, fashion designer
I am sure that Paris Hilton doesn`t need any kind of introduction. I mean, if you didn`t hear about this hotel empire wild heiress, you probably lived in cave or something for last few years. Here you can read a lot of cool facts that I collected about her life that you didn`t know before. I started from her younger age when she wasn`t so famous (I can`t write down when she wasn`t so rich, because she was born rich:), like with schools which she attended, where did she live back then, and when she started modeling, all the way to these days fresh stuff. Also read most interesting love stories about her, and many more…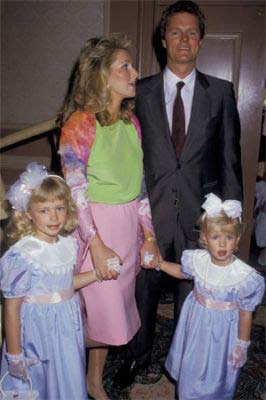 6th annual Mother/Daughter Fashion show(1987) Paris was 6 years old on this one. With her parents and sister Nicky (can you guess which one is Paris:)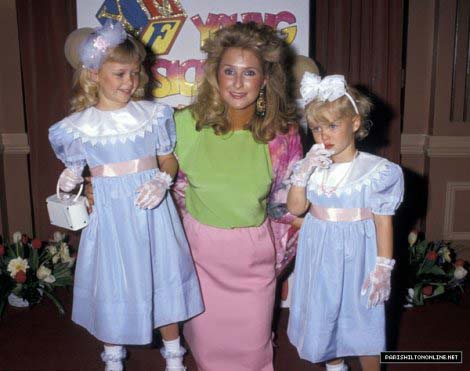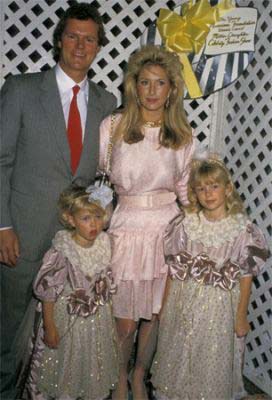 Same show, but one year later.(1988)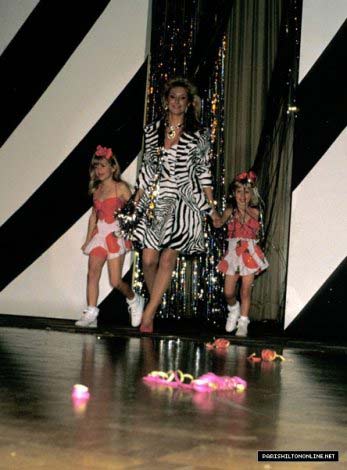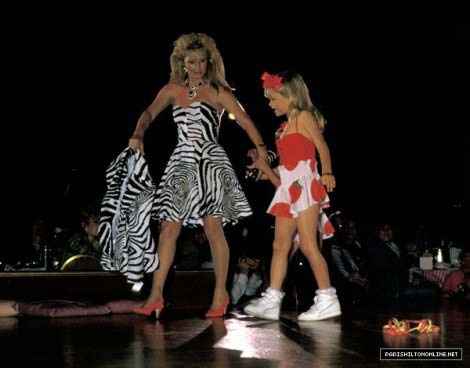 FACTS THAT YOU DIDN`T KNOW ABOUT PARIS HILTON:
Born in New York City, Paris Hilton is the oldest of four children of Richard and KathyHilton. She has a sister Nicky and brothers Barron and Conrad.
Her paternal grandparents are hotel chairman Barron Hilton, and his wife, the former Marilyn Hawley; Barron Hilton's parents were Hilton Hotels founder Conrad Hilton and his first wife, Mary Barron.
Paris is the niece of Kim Richards and Kyle Richards, two popular Disney child stars of the 1970s and 1980s.
Paris' nicknames are "Star" and "Princess."
Hilton moved between several exclusive homes when she was young, including a suite in the Waldorf-Astoria Hotel in Manhattan, Beverly Hills, and the Hamptons.
Paris attended Marywood-Palm Valley School in Rancho Mirage, California her freshman year of high school; Dwight School in New York for her sophomore and junior years; then a few months at Canterbury School in New Milford, Connecticut before dropping out. Hilton eventually earned a GED( General Educational Development ). She also briefly attended the Buckley School in Sherman Oaks, California.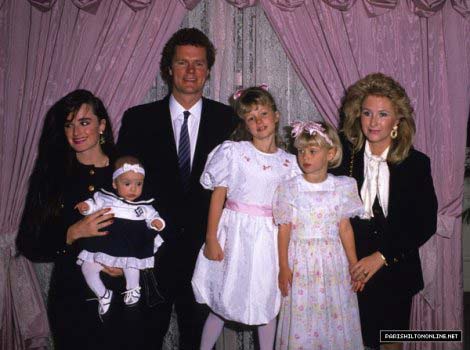 Paris attended the prestigious Professional Children's School in New York City with fellow actors Christina Ricci and Macaulay Culkin.
Paris is a Roman Catholic.
In high school, Paris scored the title roles in school plays "The Diary of Anne Frank" and "Annie."
Hilton began modeling as a child, initially at charity events.
When she was 19, she signed with Donald Trump's modeling agency, T Management. Hilton has also worked with Ford Models in New York, Models 1 Agency in London, Nous Model Management in Los Angeles, and Premier Model Management in London.
She has appeared in numerous advertising campaigns, including Iceberg Vodka, GUESS, Tommy Hilfiger, Christian Dior, and Marciano.
Paris loves dogs, especially small ones! She has three Pomeranians named Dolce, Sebastian and Prince. She also has a Chihuahua named Tinkerbell.
Hilton loves small dogs, and owns a Yorkshire Terrier and a female Chihuahua named Tinkerbell.
Has signed a deal with toymakers Gund to manufacture Tinkerbell (her pet chihuahua) soft toys.
In August 2004, Tinkerbell (Paris' chihuahua) was reported lost and a $5,000 reward was offered for her safe return. Tinkerbell was found a week later, having been left by Paris at her grandparent's house.
Beside Tinkerbell, Paris has three more chihuahuas named Harajuku, Tokyo and Bambi.
In February 2007, questions were asked if Paris' dog, Tinkerbell, was in fact the same dog as the one reported missing in 2004. While Paris claims it is the same dog, experts claim this is untrue after comparing photos and noticing the dog's nail colour has changed.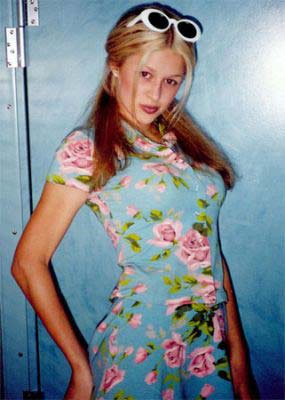 Paris has moved on from chihuahuas, to a new kind of animal–ferrets–which are banned in California as pets! Besides ferrets and Chihuahuas, Paris is now sporting a Kinkajou named Baby Love. Kinkajous are nocturnal rainforest mammals related to raccoons. The adults typically weight around five or six pounds.
Was taken to a hospital after being bitten by her pet kinkajou named Baby Love.
Paris once said that Randy Spelling was her first lover.
Paris was insecure about being flat-chested back when she was younger.
Denied Tom Sizemore's claims he slept with her when she was 19.
Paris has been romantically linked to Randy Spelling, Leonardo DiCaprio, Edward Furlong, Jamie Kennedy, Rob Mills, Deryck Whibley, Robert Evans, Oscar De La Hoya, and Ingrid Casares.
Paris dated Backstreet boy Nick Carter from Jan 2004-July 2004; details are still hazy on why they broke up, but it is strongly believed that Nick abused Paris, after she showed up to an event with a black eye. She also dated singer Avril Lavigne's husband Deryck Whibley, star of punk band Sum 41.
Paris showed up at a Hollywood police station in the early hours of the morning in late October 2006, to file an assault report. She claimed she was hit in
the face by Shanna Moakler, the ex-wife of Blink 182 rocker, whom she'd recently been caught kissing!
Hilton was engaged to fashion model Jason Shaw from mid-2002 to early 2003, and Greek shipping heir Paris Latsis, from May 29, 2005 to November 2005.
Paris' engagement ring from Paris Latsis was 24-carats, approximately worth $5 million. He proposed to her in the living room of their Beverly Hills love nest. No word on whether or not she returned it to him when they broke up.
In June 2005, she got the Esquire house in Beverly Hills, California, worth a $12 million, from fiance Paris Latsis as a lavish gift.
Wanted to marry her fiance Paris Latsis in St Paul's Cathedral, Westminster Abbey or Windsor Castle.
Called off her five-month engagement to Greek shipping heir Paris Latsis, saying she's not yet ready for marriage.
Since her break-up with Paris Latsis, Paris has been spotted with a new Greek shipping heir, Stavros Niarchos, who used to date actress Mary-Kate Olsen.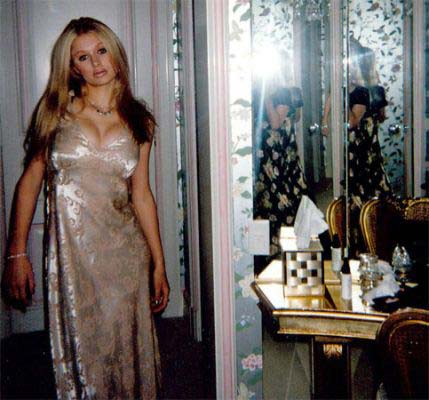 A Hawaiian taxi-driver claims the socialite urinated in his cab. Harden Jamison says the star was too drunk to notice she'd wet herself when he picked her and boyfriend Stavros Niarchos up after a party on Maui.
Has reportedly split from on-off boyfriend Stavros Niarchos again because he gets too jealous of the attention she gets from other male admirers.
Narrowly escaped electrocuting herself by drunkenly jumping into a swimming pool at her boyfriend Stavros Niarchos' birthday party – a garden light had fallen into the pool.
Paris' trademarks are wearing blue colored contact lenses, wearing shirts that read "That's Hot" and her long blonde hair.
Paris' favorite sport is golf.
Paris has three perfumes: Paris Hilton, Just Me, and Heiress.
Paris has taken Britney Spears out partying several times since she filed for divorce from Kevin Federline.
Has offered tips to Britney Spears how to deal with paparazzi, insisting she should try and cooperate with the paparazzi and not antagonize them.
Paris attended Hugh Hefner's 80th birthday party at the Playboy Mansion. She sang happy birthday to him.
For her 21st birthday, Paris threw five parties for herself in New York, Las Vegas, London, Hollywood, and Tokyo.
One of Paris' favorite vacation spots is Greece. "I love Mykonos in Greece." Her favorite club there is Mykonos Club Paradise.
Paris' best friends are actress Tara Reid and reality TV star Nicole Richie. Yet, she said no one knows her more than her sister, Nicky.
Paris' favorite movie is There's Something About Mary.
Paris' popularity skyrocketed after a homemade sex video between her and ex-boyfriend Rick Salomon scattered all over the internet in October of 2003. The video was made when she was 19.
Paris announced at the end of 2003 that she is recording an album. She enlisted the help of *NSYNC star J.C. Chasez and his producer Rob Boldt to help in the creation of a dance-pop album.
Paris' single Stars Are Blind has been marred by claims she doesn't sing the lead vocals on the hit track. A music insider claims the vocals belong to Carah Faye Charnow, lead singer with LA band Shiny Toy Guns. Paris brought Carah in to sing backup vocals however Carah's vocal talent became the lead.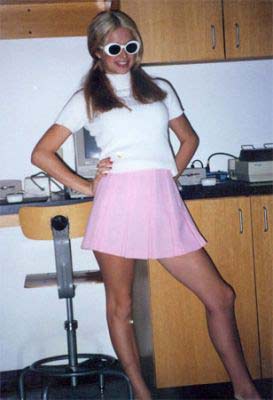 Paris founded the record label, Heiress Records.
Paris is considering plastic surgery to correct her drooping left eyelid. While she has had the problem since a toddler, she has ignored doctors' orders not to wear her tinted contacts. Paris has naturally brown eyes but has always worn blue tinted contact lenses to keep up her Barbie-style image
In January 2007, Paris was sentenced to three years probation after pleading no contest to alcohol-related reckless driving. She pleaded no contest under a plea agreement with prosecutors and can reduce her probation by a year if she completes 40 hours of community service.
On May 5th, 2007, Paris was sentenced to 45 days in prison for a parole violation, after she was caught driving on a suspended license in February following her no contest plea to drunk-driving.
Authorities said that because of a number of factors, including turning up for her court appearance, she would spend about 23 days in prison instead of the 45-day term she was sentenced to for breaching her probation for a driving offence.
Appealed to fans to sign an online petition urging California governor Arnold Schwarzenegger to commute her 45-day sentence for driving while disqualified.
Filled her time in jail by responding to fans' letters.
Told television journalist Barbara Walters from the medical wing of a Los Angeles jail that she believes God has given her a new chance and said she plans to stop acting dumb and to instead put her influence to good use.
Her wax work dummy at Madame Tussaud's Wax Museum in New York has been outfitted in a black and white prison jumpsuit while she serves a prison sentence.
Paris has starred in an anti-drink driving campaign. Paris, who was arrested for drunk driving, is featured in a full page public service announcement in a US teen magazine.
Paris has claimed that she read the Bible frequently while she was in jail, yet when Larry King asked her what her favorite Bible verse was, she couldn't think of anything on the spot.
While on the set of the movie, House of Wax, she received an invitation in the mail that said a girl named Remi was having a birthday party, and she wanted to have Paris there. The party's theme was to dress like Paris Hilton, and Paris accepted the invitation.
Paris owns a chain of night clubs called Club Paris.
Paris was the subject of a South Park episode entitled "Stupid Spoiled Whore Video Playset" in which she opens a store called "Stupid Spoiled Whore" selling girls everything they need to emulate her.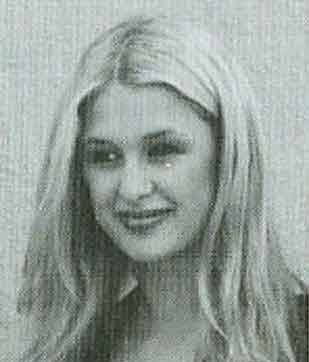 Paris wears size 11 shoes, so she has all her shoes custom-designed to fit her large feet!
Paris stands tall at 5'8."
Paris tries to fit in an hour of yoga every day.
Paris admits she has a weakness for McDonald's French Fries
On July 19, 2007, Paris attempted to demonstrate her environmental consciousness by telling Us Weekly magazine that she had ordered a "Hummer Hybrid." However, a Hummer spokesperson told the magazine that, "Such a car doesn't exist."
Paris and social networking website Bebo were the hottest topics on Google in 2006.
Partying at 'Tao', in December 2006, Paris jumped on stage to mime to a couple of her own songs. By this time she had had much too much to drink and vomited all over the stage.
In October 2006, Paris and Nicole Richie agreed to make a fifth series of their reality TV show The Simple Life.
Paris is hiring herself out for New Years' parties. Paris will host a bash in either Miami, New York or LA for $US100,000 plus expenses and a private jet.
Paris posed semi-nude for the March 2006 issue of Vanity Fair magazine.
Paris was banned from Vanity Fair's annual post-Oscar party.
Dr. Dre and Scott Storch are listed among the producers on Paris' upcoming album, which is a big shocker for hip-hop fans.
Paris likes Hello Kitty jewelry and other accessories bearing th
e Sanrio character's image.
Paris' stairwell is lined with her magazine covers, including Vanity Fair and Playboy.
Paris was named "Sex Star of the Year," in the March 2005 issue of Playboy. The picture on the cover of the issue appeared to be her but she did not pose for it, claiming she does not know where Playboy got that picture.
Paris once stood in line at a club, waiting to use the restroom, but she had to go so bad, she peed right there on the floor!
Paris was a spokesperson for Guess (clothing line) in 2004.
Stephen Shapiro is the real estate agent handling the sale of Paris' and ex-fiance Paris Latsis' $13.8 million mansion in Beverly Hills. He is also the agent selling Brad Pitt and Jennifer Aniston's former love nest (November 2005).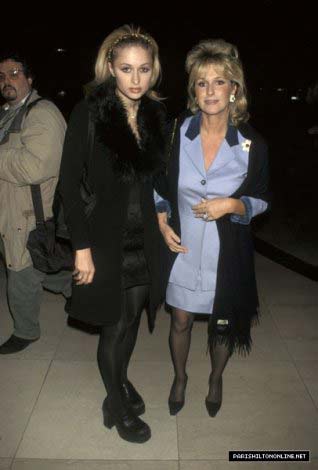 Paris had her T-Mobile Sidekick hacked in 2005. It had many celebrity's phone numbers, personal notes to herself, and such. One of her notes was a reminder to get herself a birth control pill.
After her mobile phone has been hacked, the address book were posted on the internet, angering her celebrity friends – including Eminem, Lindsay Lohan, Christina Aguilera, Andy Roddick, Vin Diesel, Anna Kournikova – who are being deluged with calls.
Mayor of Las Vegas has proclaimed August 29, 2006 as Paris Hilton Day.
Two nightclubs known as Club Paris will no longer be associated with Hilton, because she couldn't arrive on time for appearances.
Showed her generous side on a recent trip to London by tipping her hairstylists thousands of dollars.
Was furious with Cher's son, Elijah Blue Allman, for claiming the two had sex and worrying he caught a sexually transmitted disease from her.
Rushed to the aid of an Oompa-Loompa performer left injured when the crowd rushed the stage at a Miami, Fla., nightclub.
Animal rights activist Heather Mills once made Paris cry by showing her films of animal cruelty, and managed to persuade her not to wear fur ever again.
Has replaced former pal Lindsay Lohan as Las Vegas nightclub LAX's New Year's Eve good time girl — for a whopping $1 million.
Narrowly escaped injury when a photographer's car sideswiped her Cadillac Escalade as she was in the back seat of the vehicle.
A Los Angeles college student who accidentally inherited Hilton's former cell phone number said she constantly gets calls and messages meant for the socialite.
Has been a victim to an elaborate practical joke set up by Richard Branson at his son's spectacular 21st birthday party. She had asked if she could come dressed as Alice in Wonderland. But when the Virgin tycoon found out, he secretly ordered that all 60 waitresses at the event should also wear Alice costumes.
It has been revealed that Paris, who recently announced she was giving up sex for a year to concentrate on her career and to make herself a stronger person, made the vow to win a bet – she has formed a single girls club with her friends and they have a bet to see who can last the longest without sex.
Has bought the plot next to Marilyn Monroe's grave to bury her pet goat.
Has increased her security after a stalker pretending to be her fiance arrived at her father's office armed with a knife.
Doesn't like one night stands, saying it's gross when you just give it up.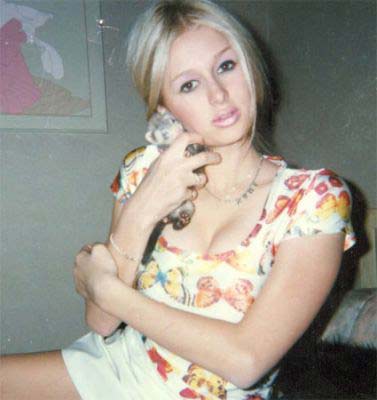 Has been banned by her parents from Paris Hotel and Casino and ordered into gambling rehab after she gambled away her $178,000 Bentley car.
Paris teamed up with French game publisher Gameloft to develop, publish and distribute mobile games based on heiress and pop culture icon.
Was offered the chance to earn over L27 million-a-year as a high-class prostitute by a psychiatric patient via a letter to the New York Daily News. (2005)
Was eager to purchase one of kangaroos while filming in Queensland, Australia, recently. But she changed her mind after she was told they punch their owners in the stomach.
Photographs of Hilton embracing and kissing another woman when she was 20 are set to be published by Hustler magazine.
Her television show The Simple Life got higher ratings than President Bush's exclusive ABC interview Tuesday night.
She had a cameo appearance in "Zoolander" (2000).
Made it into the 2007 Guinness Book of World Records, chosen the Most Overrated Person.